WUUK Base Station Supported Devices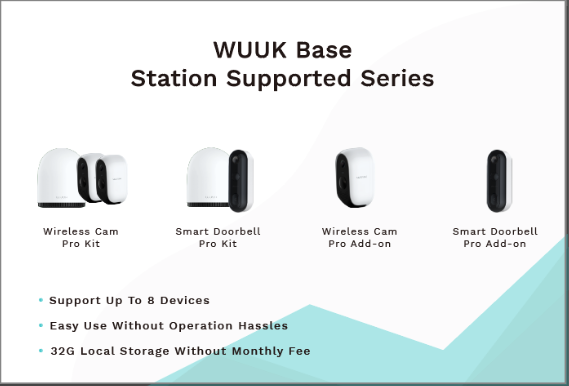 The WUUK Base Station should be linked to a Wi-Fi router using Ethernet (LAN) to communicate with the WUUK server and the APP on phone, while it generates its own 2.4 GHz network for doorbells or cameras to join.
For now, you could pair it with WUUK Wireless Cam Pro(Y0410) and WUUK Smart Doorbell Pro (Y0210), up to 8 devices can be added.
Note the WUUK Smart Doorbell (1 Gen) can not be added to the WUUK Base Station.
Product Overview
Q&A
1. How many devices can WUUK Base Station pair with?
WUUK Base Station supports up to 8 devices.
2. How can I save the files onto WUUK Base Station?
WUUK Base Station has a built-in 32G SD card to support Local Storage. And you don't need to purchase additional cloud storage.
3. How do I set up the WUUK Base Station? Should I remove the Ethernet cable to WUUK Base Station after the setup?
Warmly note the WUUK Base Station requires an ethernet cable to connect it to a WiFi router for the first pairing process.
4. Can I download the saved files from WUUK Base Station by using a USB cable to connect its USB port to a PC?
Cannot! The USB port has only the charging feature, and it cannot support data transfer.
5. What do I do if I want to download the files onto my phone/laptop?
Please go to WUUK App> Events, select the events, and press the download icon to manually download the file on your phone. After that, you could transfer the file to a laptop.
6. How to change the Internet that WUUK Base Station is connecting to?
No more operation hassles. Just plug in the Ethernet cable of the new router to the WUUK Base Station directly and get access to the Internet.
Or if you changed the Internet settings, just keep the Ethernet cable connecting to the WUUK Base Station without any changes.
7. Can I connect my 1-generation WUUK smart doorbell to WUUK Base Station?
Cannot! The 1-G WUUK smart doorbell can only support the connection to WUUK chime of the same set, and they've mutually paired.