Applicable Cameras
WUUK Wired Smart Doorbell Pro
WUUK cameras support microSD cards in formats FAT. Formatting may not be necessary if the camera supports FAT-formatted microSD cards.
However, if you are using a WUUK Wired Cam and the SD card cannot be recognized after insertion, it needs to be formatted into FAT32, which is a more compatible file system.
Note: FAT32 is compatible with SD cards up to 256GB, rated Class 10 or higher, such as SDXC cards or SD/SDHC cards. SDXC cards use the "exFAT" file system, which is efficient for larger capacities, while SD and SDHC cards use FAT32. Cards larger than 256GB have not been tested by WUUK.
Instructions for Formatting the SD Card:
After inserting the SD card into your camera, open the WUUK app on your smartphone.

Navigate to the camera settings by selecting the specific camera from the app's interface.

Look for the "SD card" option within the camera settings.

If the SD card status in the WUUK app displays "N/A" or "No Card," it means the SD card is not recognized. You can try the following steps:

First, ensure the SD card is properly inserted.

If the issue persists, connect the SD card to a computer to check if it is recognizable there. You might need to format it to FAT32 using a computer if it's not already in that format.

Alternatively, try using another available SD card to see if the problem is with the card itself.

If you are using an SDXC card with a capacity over 32GB or an SD/SDHC card, you will likely need to format it to FAT32. In the app, locate the "Action Required" option under the "SD card" settings.

Tap on "Action Required" to initiate the formatting process. Follow the on-screen instructions to complete the formatting of the SD card into FAT32.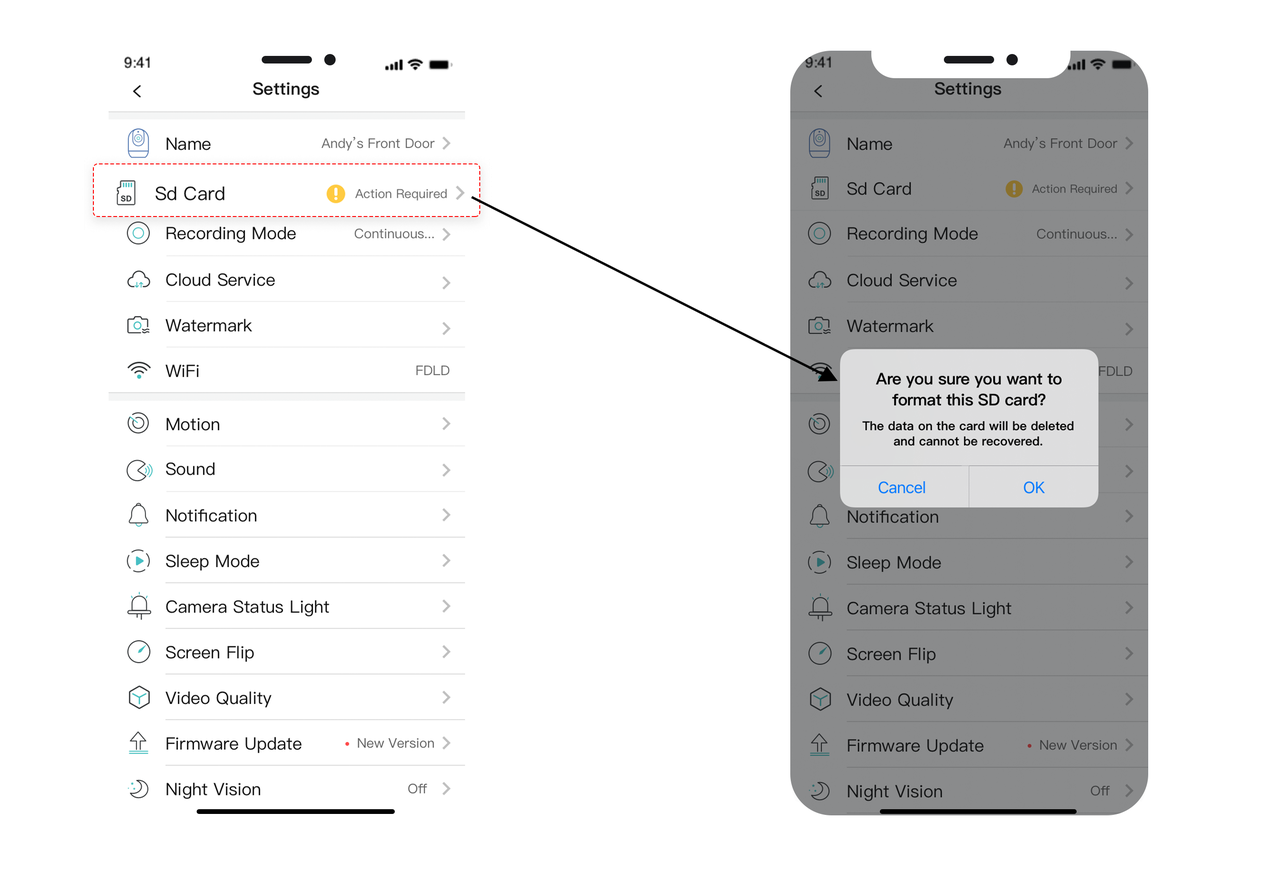 Additional Notes:
Ensure that your app is updated to at least iOS V3.3.17 or Android V3.3.12 to access this formatting feature.

Check for firmware updates in the "Firmware Update" section of the app and update to the latest firmware version if available. Firmware updates can improve compatibility and performance.
By following these steps, you should be able to format your SD card into FAT32 for use with your WUUK camera. If you still need further help, contact
WUUK Support
.