Preparation steps before you begin:
Download the WUUK app onto your smartphone or tablet from APP Store ( for iOS devices) or from Google Play Store ( for Android devices)

Connect your device to a 2.4 GHz Wi-Fi network.

Unbox your WUUK Wired Cam Pro v2, removing all plastic and packaging materials.

Plug the camera into a power source using the provided USB cable and power adapter.

Observe the camera's status light, which will turn solid red upon powering up, then turn to blue and the initialization is completed. When flashing after pressing the SYNC button, it's ready for setup. ( For more details, refer to

Understand your Wired Cam Pro v2 Status Lights

)
Now, proceed with setting up your
WUUK Wired Cam Pro v2

:
Launch the WUUK app and navigate to the Devices tab. Then, tap the "+" plus sign located at the top right corner.
Select "Wired Camera".
Choose "Wired Cam Pro v2", and then follow the on-screen instructions to begin the setup.
With your camera plugged in, tap "I see blue light" within the app.
Gently remove the rubber cover of the camera and single-press the "SYNC" button located beneath the camera until the status light turns flashing red and the camera announces "Beep"
Confirm within the app that I see a "red flashing light" and go ahead.
Pick your 2.4 GHz Wi-Fi network and input your network password. Tap "Continue".
To ensure the correct password entry, tap the icon in the password field to reveal the password. (

The password must be at least 8 characters long for security needs.

)
Scan the QR code shown on the WUUK app.
Hold your camera up to your phone's screen, ensuring the QR code is visible. You'll hear a "beep" if the QR code is scanned successfully.
Confirm in the app that I heard "beep" and go next, the camera announces "pairing successfully",
Now, give your device a name. You can either type in a name or choose from suggested options.
Once named, tap "Finish".
Congratulations! You're all set. Enjoy your new WUUK device!
Additional Tips:
Wi-Fi Compatibility: Note that most Wyze devices are compatible with 2.4 GHz Wi-Fi networks. If you're connected to a 5 GHz network, switch to a 2.4 GHz network before beginning setup.

QR Code Scanning Tips: If you encounter difficulties scanning the QR code, consider these suggestions: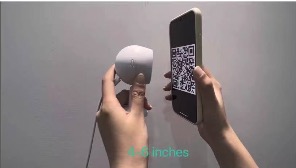 Keep your camera 6-10 inches away from your phone screen.

Experiment with moving the QR code on the screen closer to and then away from the camera.

Slightly tilt your phone screen to reduce glare.

Attempt scanning with your phone turned upside down.

Ensure the QR code isn't distorted.

For older devices, try a device with a larger screen.

If your screen is damaged, switch to a different device.